Product Description
HRC Flexible rubber camlock shaft coupling types of spider coupling HRC B/F/H Cast Iron HRC Couplings for Hub HRC 70F-1008
 
Product Description
Installation is quick and easy without special tools required, only a hexagonal wrench is needed
Maintenance is virtually eliminated without the lubrication required
The electro-metric element allows HRC to be suitable for use in most conditions
In the unlikely event of the flexible element being destroyed, the drive will be maintained by the inner action of the integrally cast driving dogs
Product Parameters
Type F&H
Bored to size
A
B
E
F
G
L1
L2
L3
J
SIZE
BUSH
Bore
C
D
Bore
C
D
MAX MIN
MAX
MIN
70
1008
25
9
20.0 
23.5
32
10
20
23.5
69
60
31
25
18
65
66.5
68
29
90
1108
28
9
19.5
23.5
42
10
26
30.5
85
70
32
30.5
22.5
69.5
76
82.5
29
110
1610
42
14
18.5
26.5
55
10
37
45.5
112
100
45
45
29
82
101
119
38
130
1610
42
14
18.5
26.5
60
20
39
47.5
130
105
50
53
35
89
118
146
38
150
2012
50
14
23.5
33.5
85
28
46
56
150
115
62
60
40
107
134
160
42
180
2517
60
16
34.5
46.5
80
28
58
70
180
125
77
73
49
142
165
189
48
230
3571
75
25
39.5
52.5
100
48
77
90
225
155
99
85.5
59.5
165
202
240
55
280
3525
100
35
51.0 
66.5
115
60
90
105.5
175
206
119
105.5
74.5
208
247
286
67
Related Products
Company Profile
FAQ
Q: Can you make the coupling with customization?
A: Yes, we can customize per your request.
Q: Do you provide samples?
A: Yes. The sample is available for testing.
Q: What is your MOQ?
A: It is 10pcs for the beginning of our business.
Q: What's your lead time?
A: Standard products need 5-30 days, a bit longer for customized products.
Q: Do you provide technical support?
A: Yes. Our company has a design and development team, and we can provide technical support if you
need.
Q: How to ship to us?
A: It is available by air, sea, or by train.
Q: How to pay the money?
A: T/T and L/C are preferred, with different currencies, including USD, EUR, RMB, etc.
Q: How can I know if the product is suitable for me?
A: >1ST confirm drawing and specification >2nd test sample >3rd start mass production.
Q: Can I come to your company to visit?
A: Yes, you are welcome to visit us at any time.
Q: How shall we contact you?
A: You can send an inquiry directly, and we will respond within 24 hours.
Shipping Cost:

Estimated freight per unit.





To be negotiated
| | |
| --- | --- |
| Standard Or Nonstandard: | Standard |
| Shaft Hole: | 8-24 |
| Torque: | <10N.M |
Samples:

US$ 50/Piece

1 Piece(Min.Order)

|

Order Sample

Two parts with rubber
Customization:

Available

|

Customized Request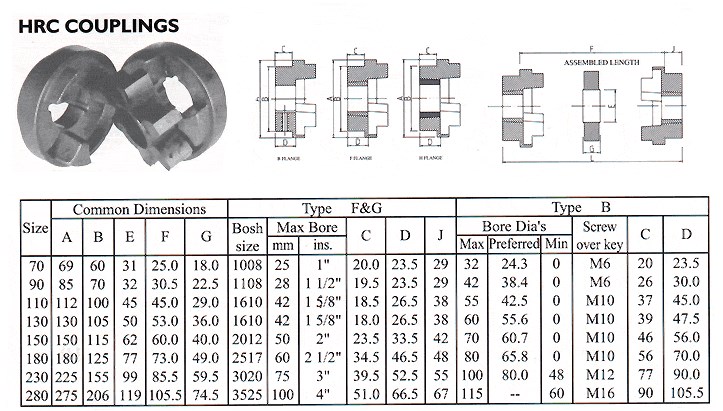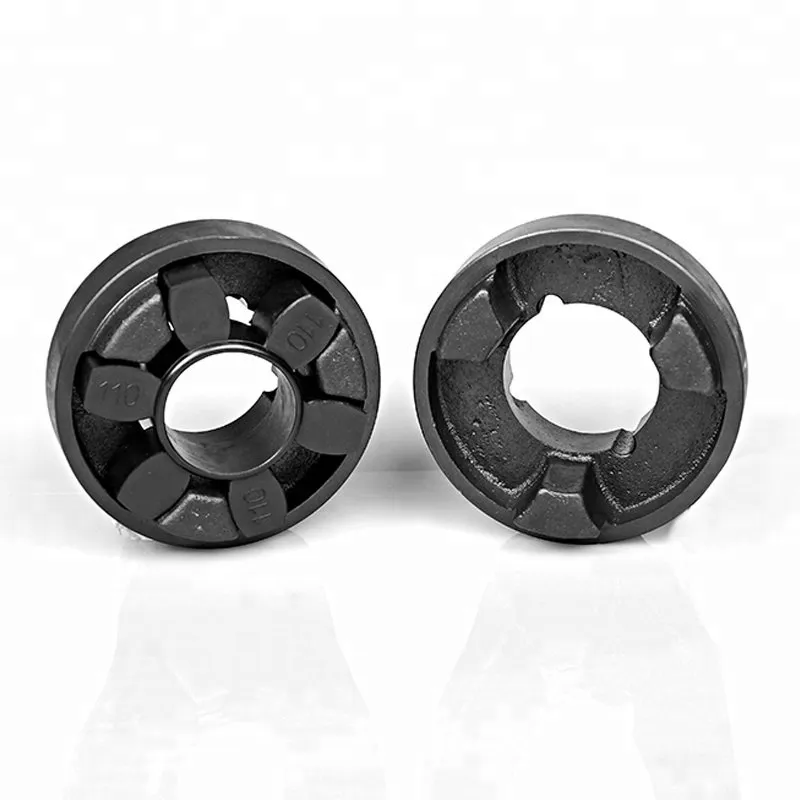 Can HRC Couplings Accommodate High Torque and High-Speed Applications?
HRC (Highly Resilient Coupling) couplings are designed to handle a wide range of torque and speed requirements, making them suitable for various industrial applications, including those involving high torque and high-speed conditions. Their ability to accommodate high torque and high-speed applications depends on several factors:
Coupling Size and Type: HRC couplings come in various sizes and types, each with its torque and speed ratings. Larger couplings with robust designs can handle higher torque and speed than smaller ones.
Material Composition: HRC couplings consist of a metal hub and a flexible elastomeric element. The material composition of the elastomer plays a significant role in determining the coupling's torque and speed capabilities.
Elastomer Properties: The elastomeric element in HRC couplings provides flexibility and damping. It should be selected based on its resilience, durability, and ability to withstand the intended torque and speed requirements.
Application Requirements: The coupling's torque and speed ratings must match or exceed the demands of the application. Factors such as the driven and driving equipment's power, load characteristics, and operational conditions should be considered.
Proper Installation: Correct installation, including accurate alignment and proper torqueing of the coupling, ensures optimal performance and minimizes the risk of premature failure in high torque and speed applications.
It's important to consult the manufacturer's specifications and guidelines to select the appropriate HRC coupling for a specific high torque and high-speed application. Using an undersized or unsuitable coupling can lead to premature wear, reduced efficiency, and potential safety hazards.
In summary, HRC couplings are well-suited for high torque and high-speed applications when properly selected, installed, and maintained. They offer the benefits of damping vibrations, shock absorption, and misalignment compensation while reliably transmitting power in demanding industrial settings.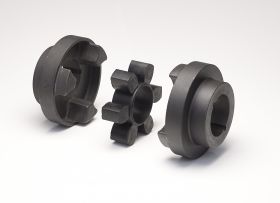 What Industries Commonly Use HRC Couplings for Power Transmission?
HRC (Highly Resilient Coupling) couplings are widely used in various industries for power transmission applications. Some of the common industries where HRC couplings are utilized include:
1. Manufacturing Industry: HRC couplings are extensively used in manufacturing plants for powering various machinery such as conveyor systems, pumps, compressors, fans, and machine tools. Their ability to dampen vibrations and accommodate misalignment makes them suitable for a range of manufacturing processes.
2. Petrochemical Industry: The petrochemical industry often employs HRC couplings in pumps, blowers, and agitators used for processing and transporting various chemicals and petrochemical products. These couplings help ensure smooth power transmission and protect equipment from shocks and vibrations.
3. Mining Industry: In the mining sector, HRC couplings are used in crushers, mills, conveyor belts, and other heavy-duty equipment. They are chosen for their durability and ability to handle high torque loads, which are common in mining operations.
4. Water and Wastewater Treatment: Water treatment plants and wastewater facilities utilize HRC couplings in pumps, mixers, and aerators to efficiently move and treat water and sewage. The couplings' shock absorption capability helps reduce wear and tear on the equipment.
5. Power Generation: Power plants, both conventional and renewable, often use HRC couplings in generators, turbines, cooling tower fans, and other critical equipment. The couplings' ability to handle high torque and dampen vibrations is beneficial in power generation applications.
6. Paper and Pulp Industry: In paper mills and pulp processing facilities, HRC couplings are employed in various stages of the manufacturing process, including pumps, agitators, and roll drives. They contribute to efficient power transmission and minimize downtime.
7. Steel and Metal Industry: The steel and metal processing industry relies on HRC couplings in rolling mills, furnaces, and other heavy machinery. These couplings assist in transmitting power effectively while absorbing shock loads and accommodating misalignment.
These are just a few examples, and HRC couplings find applications in numerous other industries, such as food and beverage, automotive, chemical, and construction, where reliable power transmission and protection of connected equipment are essential.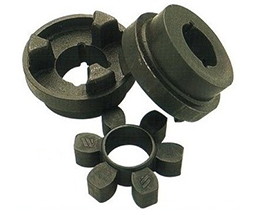 Explanation of HRC Coupling and Its Functionality
An HRC coupling, also known as a "Highly Resilient Coupling" or "Jaw Coupling," is a type of flexible shaft coupling used to connect two shafts in mechanical power transmission systems. It is designed to transmit torque while accommodating minor shaft misalignments and dampening vibrations.
How HRC Coupling Works:
The HRC coupling consists of three main components:
Two Hubs: Each hub has a set of curved jaws with teeth that mesh together when the coupling is assembled. The hubs are typically made of steel or cast iron and are connected to the respective shafts of the driving and driven equipment.

Elastomeric Spider: The elastomeric spider is the flexible element of the coupling and is placed between the two hubs. It is commonly made of a synthetic rubber material such as polyurethane. The spider's unique design allows it to deform under torque, transmitting power while accommodating angular and parallel misalignments between the shafts.
When the HRC coupling is in operation, the driving shaft rotates, and the torque is transmitted through the hubs to the elastomeric spider. As the spider deforms, the jaws of the hubs move relative to each other, accommodating any misalignment between the shafts. This flexibility helps to reduce the transmission of vibrations and shock loads from one shaft to the other, thus protecting the connected equipment.
HRC couplings are widely used in various applications, including pumps, compressors, conveyors, and other machinery, where misalignment and shock absorption are important considerations. Their simple and effective design makes them easy to install and maintain, and they are available in various sizes and torque ratings to suit different power transmission requirements.



editor by CX 2023-10-02