Product Description
Product Description
1.  Flexible jaw coupling is stable and reliable, with good vibration damping, buffering and electrical insulation properties.
2.  The structure is simple, the radial size is small, the weight is light, and the moment of inertia is small, which is suitable for medium and high speed applications.
3.  It has large axial, radial and angular compensation capabilities.
4.  High-strength polyurethane spider are wear-resistant and oil-resistant, have large bearing capacity, long service life, and are safe and reliable.
5. The flexible jaw coupling does not need lubrication, and the maintenance workload is small, and it can run continuously for a long time.
Applications
Manufacturing
Agriculture
Building Material
Oil and Gas
Technology and Science
High Quality
Corrosion resistance
Durable, Robust and Reliable
Bad Condition Resistance
Lower Weight–High Speed
High Performance
Strong Ultimate Tensile Strength
Perfect Surface Treatment
Durable, Flexible
Detailed Photos
Product Parameters
Packaging & Shipping
Package
 Standard suitable package / Pallet or container.
 Polybag inside export carton outside, blister and Tape and reel package available.
 If customers have specific requirements for the packaging, we will gladly accommodate.
Shipping

 10-20working days ofter payment receipt comfirmed (based on actual quantity).
 Packing standard export packing or according to customers demand.   

 Professional goods shipping forward.
Company Profile
| | |
| --- | --- |
| Standard Or Nonstandard: | Standard |
| Bore Diameter: | Stock Bore or Customized |
| Structure: | Flexible |
| Material: | Cast Iron |
| Type: | Elastic Coupling |
| Certifications: | ISO9001:2008 |
Samples:

US$ 0/Piece

1 Piece(Min.Order)

|
Request Sample
Customization:

Available

|

Customized Request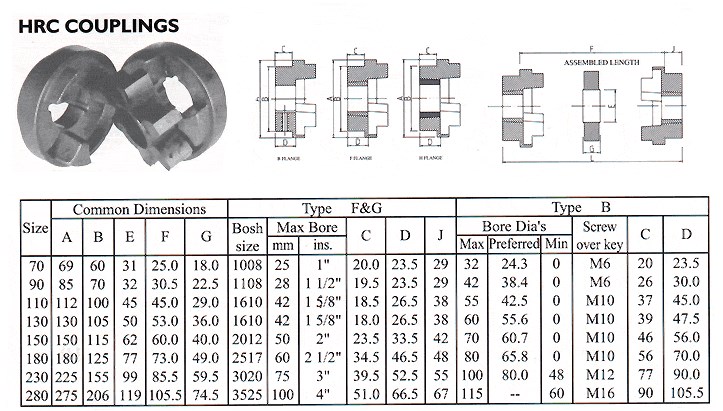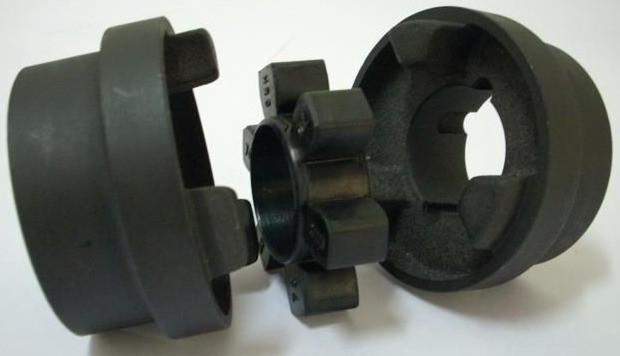 How Does an HRC Coupling Protect Connected Equipment from Shock Loads and Vibrations?
HRC (Highly Resilient Coupling) couplings are designed to protect connected equipment from shock loads and vibrations through their unique construction and material properties:
Flexible Elastomeric Element: The key component of an HRC coupling is the flexible elastomeric element positioned between the two metal hubs. This elastomer acts as a mechanical buffer, capable of absorbing and dissipating shock loads and vibrations that may occur during operation.
Damping of Vibrations: The elastomeric element's flexibility allows it to dampen torsional vibrations and dampen the impact of sudden shock loads. This helps in reducing resonance effects and minimizing the transmission of vibrations to the connected equipment.
High Resilience: HRC couplings are made from elastomers with high resilience, meaning they can deform under load and return to their original shape after the load is removed. This property enables them to absorb and dissipate energy, protecting the system from sudden shocks.
Misalignment Compensation: In addition to shock and vibration absorption, HRC couplings can also compensate for small amounts of misalignment between shafts. This capability further enhances the protection of connected equipment by reducing the stress caused by misalignment.
When equipment experiences shock loads or vibrations, the elastomeric element flexes and compresses, acting as a shock absorber. This prevents the sudden transmission of high impact forces to the connected machinery, reducing the risk of damage and premature wear.
Moreover, by damping vibrations, HRC couplings improve the overall stability and smoothness of the power transmission system. This contributes to the longevity of connected equipment and reduces the likelihood of mechanical failures or downtime.
Overall, HRC couplings play a vital role in safeguarding connected equipment from shock loads and vibrations, promoting the reliability and performance of mechanical systems in various industrial applications.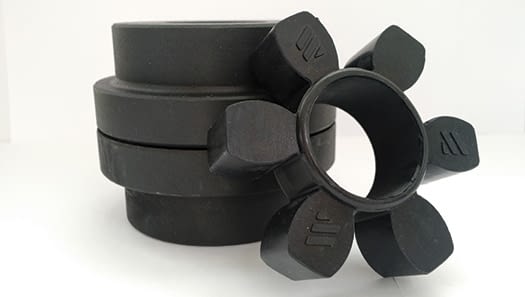 Factors to Consider When Choosing an HRC Coupling for a Specific System
When selecting an HRC coupling for a specific system, several crucial factors should be taken into consideration to ensure optimal performance and reliability:
1. Torque and Power Requirements: Determine the torque and power requirements of the application. This will help in selecting an HRC coupling with the appropriate torque rating and power capacity to handle the load.
2. Shaft Sizes: Check the shaft sizes of the connected equipment. The HRC coupling's bore size should match the shaft sizes to ensure a proper fit and secure connection.
3. Misalignment Tolerance: Evaluate the expected misalignment in the system. HRC couplings are known for their ability to handle angular, parallel, and axial misalignment to a certain degree. Choose a coupling with the appropriate misalignment tolerance for your application.
4. Operating Speed: Consider the operating speed of the machinery. High-speed applications may require specially designed HRC couplings with balanced construction to prevent vibrations and maintain smooth operation.
5. Operating Temperature: Determine the range of operating temperatures in the system. Ensure that the selected HRC coupling can withstand the temperature extremes of the application without compromising its performance.
6. Environmental Conditions: Consider the environmental conditions in which the HRC coupling will operate. Factors such as moisture, dust, and corrosive elements should be taken into account when choosing the appropriate material and coating for the coupling.
7. Space Limitations: Evaluate the available space for the coupling installation. HRC couplings come in various sizes and designs, so choose one that fits within the spatial constraints of the system.
8. Maintenance Requirements: Determine the desired level of maintenance for the coupling. Some HRC couplings are maintenance-free, while others may require periodic inspection and lubrication.
9. Coupling Type: Consider the specific type of HRC coupling that best suits the application. HRC couplings are available in different designs, such as flange, taper bush, and pilot bore, each with its advantages for specific applications.
10. Budgetary Constraints: Finally, consider the budget for the coupling. While cost is an important factor, it should be balanced with the coupling's performance, durability, and suitability for the application.
By carefully evaluating these factors, you can choose the most appropriate HRC coupling for your specific system, ensuring smooth power transmission, longevity, and reliability of your equipment.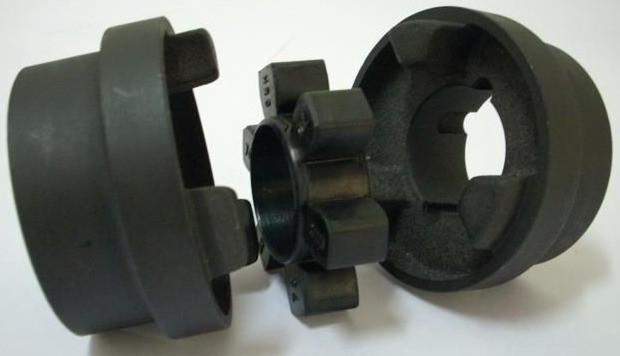 Materials Used in Manufacturing HRC Couplings
HRC couplings are typically made from a combination of different materials to provide the necessary properties for efficient power transmission and durability. The common materials used in manufacturing HRC couplings include:
Cast Iron: Cast iron is a widely used material for HRC couplings due to its excellent strength, durability, and resistance to wear and deformation. It is suitable for various industrial applications and can handle substantial torque and misalignment.
Steel: Steel is another popular choice for HRC coupling construction. It offers high tensile strength, good fatigue resistance, and the ability to handle high-speed applications. Steel HRC couplings are suitable for demanding environments and heavy-duty machinery.
Stainless Steel: Stainless steel HRC couplings are ideal for applications where corrosion resistance is essential. They are commonly used in industries such as food processing, pharmaceuticals, and marine environments.
Aluminum: Aluminum HRC couplings are lightweight and have excellent corrosion resistance. They are suitable for low to medium torque applications where weight reduction is a concern.
Bronze: Bronze is used in specialized HRC coupling designs, particularly for applications requiring low friction and high wear resistance. It is commonly used in marine and heavy machinery applications.
Polyurethane: Polyurethane is used for the flexible elements of HRC couplings. It offers good shock absorption and vibration damping properties, contributing to the coupling's ability to protect connected equipment from shocks and vibrations.
Other Composite Materials: Some HRC couplings may feature composite materials that combine the benefits of different materials, such as rubber compounds with metal reinforcement, to provide specific performance characteristics.
The material selection for HRC couplings depends on the application requirements, including torque, speed, environmental conditions, and industry standards. Manufacturers often provide a range of material options to suit various applications and ensure reliable and efficient power transmission.



editor by CX 2023-09-30