Product Description
Product Description
COUPLINGS
| | | | | | | | |
| --- | --- | --- | --- | --- | --- | --- | --- |
| HRC | FCL | Chain coupling | GE | L | NM | MH | Torque limiter |
| HRC 70B | FCL90 | KC4012 | GE14 | L050 | NM50 | MH45 | TL250-2 |
| HRC 70F | FCL100 | KC4014 | GE19 | L070 | NM67 | MH55 | TL250-1 |
| HRC 70H | FCL112 | KC4016 | GE24 | L075 | NM82 | MH65 | TL350-2 |
| HRC 90B | FCL125 | KC5014 | GE28 | L090 | NM97 | MH80 | TL350-1 |
| HRC 90F | FCL140 | KC5016 | GE38 | L095 | NM112 | MH90 | TL500-2 |
| HRC 90H | FCL160 | KC6018 | GE42 | L099 | NM128 | MH115 | TL500-1 |
| HRC 110B | FCL180 | KC6571 | GE48 | L100 | NM148 | MH130 | TL700-2 |
| HRC 110F | FCL200 | KC6571 | GE55 | L110 | NM168 | MH145 | TL700-1 |
| HRC 110H | FCL224 | KC8018 | GE65 | L150 | NM194 | MH175 |   |
| HRC 130B | FCL250 | KC8571 | GE75 | L190 | NM214 | MH200 |   |
| HRC 130F | FCL280 | KC8571 | GE90 | L225 |   |   |   |
| HRC 130H | FCL315 | KC1571 |   |   |   |   |   |
| HRC 150B | FCL355 | KC12018 |   |   |   |   |   |
| HRC 150F | FCL400 | KC12571 |   |   |   |   |   |
| HRC 150H | FCL450 |   |   |   |   |   |   |
| HRC 180B | FCL560 |   |   |   |   |   |   |
| HRC 180F | FCL630 |   |   |   |   |   |   |
| HRC 180H |   |   |   |   |   |   |   |
| HRC 230B |   |   |   |   |   |   |   |
| HRC 230F |   |   |   |   |   |   |   |
| HRC 230H |   |   |   |   |   |   |   |
| HRC 280B |   |   |   |   |   |   |   |
| HRC 280F |   |   |   |   |   |   |   |
| HRC 280H |   |   |   |   |   |   |   |
Catalogue
Workshop
   Lots of coupling in stock
 
FAQ
Q1: Are you trading company or manufacturer ?
A: We are factory.
 
Q2: How long is your delivery time and shipment?
1.Sample Lead-times: 10-20 days.
2.Production Lead-times: 30-45 days after order confirmed.
Q3: What is your advantages?
1. The most competitive price and good quality.
2. Perfect technical engineers give you the best support.
3. OEM is available.
| | |
| --- | --- |
| Standard Or Nonstandard: | Standard |
| Structure: | Flexible |
| Material: | Cast Iron |
| Type 6: | HRC180 |
| Type 5: | HRC150 |
| Type 8: | HRC280 |
Customization:

Available

|

Customized Request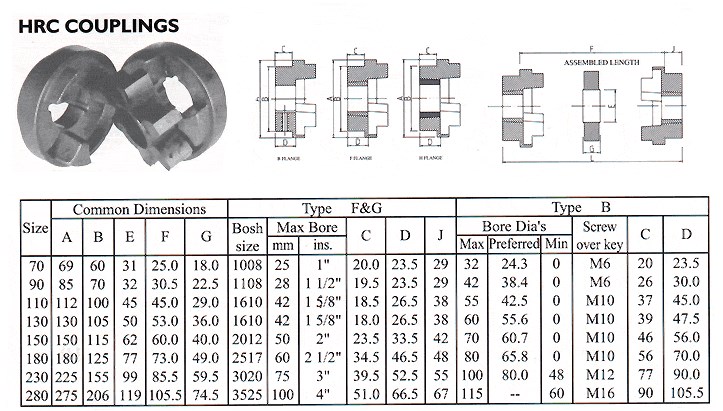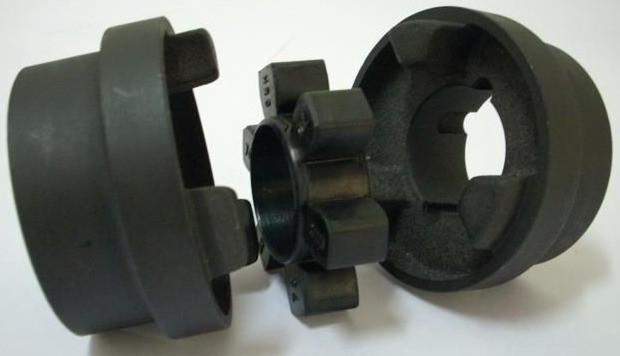 How Does an HRC Coupling Protect Connected Equipment from Shock Loads and Vibrations?
HRC (Highly Resilient Coupling) couplings are designed to protect connected equipment from shock loads and vibrations through their unique construction and material properties:
Flexible Elastomeric Element: The key component of an HRC coupling is the flexible elastomeric element positioned between the two metal hubs. This elastomer acts as a mechanical buffer, capable of absorbing and dissipating shock loads and vibrations that may occur during operation.
Damping of Vibrations: The elastomeric element's flexibility allows it to dampen torsional vibrations and dampen the impact of sudden shock loads. This helps in reducing resonance effects and minimizing the transmission of vibrations to the connected equipment.
High Resilience: HRC couplings are made from elastomers with high resilience, meaning they can deform under load and return to their original shape after the load is removed. This property enables them to absorb and dissipate energy, protecting the system from sudden shocks.
Misalignment Compensation: In addition to shock and vibration absorption, HRC couplings can also compensate for small amounts of misalignment between shafts. This capability further enhances the protection of connected equipment by reducing the stress caused by misalignment.
When equipment experiences shock loads or vibrations, the elastomeric element flexes and compresses, acting as a shock absorber. This prevents the sudden transmission of high impact forces to the connected machinery, reducing the risk of damage and premature wear.
Moreover, by damping vibrations, HRC couplings improve the overall stability and smoothness of the power transmission system. This contributes to the longevity of connected equipment and reduces the likelihood of mechanical failures or downtime.
Overall, HRC couplings play a vital role in safeguarding connected equipment from shock loads and vibrations, promoting the reliability and performance of mechanical systems in various industrial applications.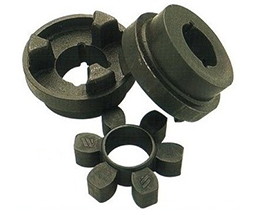 Can HRC Couplings Be Used in Both Horizontal and Vertical Shaft Arrangements?
Yes, HRC (Highly Resilient Coupling) couplings can be used in both horizontal and vertical shaft arrangements, making them versatile options for various applications.
Horizontal Shaft Arrangements: In horizontal shaft arrangements, the shafts are positioned parallel to the ground, and the rotational axis is horizontal. HRC couplings are commonly used in this configuration to transmit torque between two shafts with a certain level of misalignment. They are particularly effective in absorbing shock loads, dampening vibrations, and compensating for slight misalignments, which are often encountered in rotating machinery.
Vertical Shaft Arrangements: In vertical shaft arrangements, the shafts are positioned vertically, and the rotational axis is perpendicular to the ground. This configuration is commonly found in applications such as vertical pumps, vertical motors, and gearboxes. When using HRC couplings in vertical shaft arrangements, additional consideration is required to ensure that the coupling can support the weight of the connected equipment and accommodate any potential misalignment due to gravitational forces.
When selecting an HRC coupling for a vertical shaft arrangement, it is essential to choose a coupling with adequate torque capacity and stiffness to handle the weight of the equipment and any dynamic forces resulting from the vertical orientation.
In summary, HRC couplings are suitable for both horizontal and vertical shaft arrangements, providing reliable power transmission and compensating for misalignment and vibration in various mechanical systems.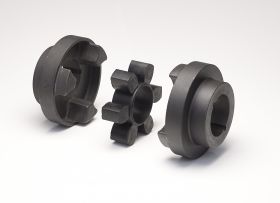 Advantages of Using HRC Couplings in Mechanical Systems
1. Flexibility: HRC couplings offer flexibility in accommodating misalignment between shafts, both angular and parallel. This flexibility helps to reduce stress on the connected equipment and increases the overall reliability of the system.
2. Vibration Damping: The elastomeric spider in HRC couplings acts as a cushion, absorbing vibrations and shock loads, which results in smoother and quieter operation of the machinery.
3. Simple Design: HRC couplings have a straightforward design, consisting of just two hubs and an elastomeric spider. This simplicity makes them easy to install, assemble, and maintain.
4. Cost-Effective: Compared to some other types of couplings, HRC couplings are cost-effective, providing reliable performance at a relatively lower cost.
5. High Torque Transmission: HRC couplings can handle high torque transmission, making them suitable for various heavy-duty applications.
6. Misalignment Compensation: They can compensate for small amounts of misalignment between shafts, which can occur due to factors like thermal expansion or shaft deflection.
7. Corrosion Resistance: The elastomeric spider in HRC couplings provides some level of corrosion resistance, making them suitable for applications in harsh environments.
8. Wide Range of Sizes and Torque Ratings: HRC couplings are available in various sizes and torque ratings, making it easy to find a suitable coupling for different power transmission requirements.
9. Electrically Insulating: Some HRC couplings are electrically insulating, which can be advantageous in certain applications to prevent electrical currents from passing between connected shafts.
10. Reduced Downtime: Due to their ability to absorb shock loads and vibrations, HRC couplings can help reduce wear and tear on machinery, leading to less downtime and lower maintenance costs.
Overall, HRC couplings are a reliable and widely used choice for connecting shafts in mechanical systems, providing flexibility, vibration dampening, and cost-effectiveness in a wide range of applications.



editor by CX 2023-08-09