Product Description
HRC Coupling : HRC70, HRC90, HRC110, HRC130, HRC150, HRC180, HRC230, HRC280
Cast iron material
Standard and non-standard coupling available
With high quality and competitive price
HRC Type B
Coupling Size
Max.Bore
Pilot Bore
Keyway screw size
Hub Width
Shoulder Width
70
32
8
M6
23.5
20
90
42
10
M6
30.5
26
110
55
10
M10
45.5
37
130
60
15
M10
47.5
39
150
70
20
M10
56.5
46
180
80
25
M10
70.5
58
230
100
25
M12
90.5
77
280
115
30
M16
105.5
90
HRC Type F&H
coupling Size
Taper Bush size
Max. Bore
C
D
 
 
mm
inch
mm
mm
70
1008
25
1″
23.5
20
90
1108
28
1 1/8″
23.5
19.5
110
1610
42
1 5/8″
26.5
18.5
130
1610
42
1 5/8″
26.5
18
150
2012
50
2″
33.5
23.5
180
2517
65
2 1/2″
46.5
34.5
230
3571
75
3″
52.5
39.5
280
3525
95
3 11/16″
66.5
51
| | |
| --- | --- |
| Standard Or Nonstandard: | Standard |
| Shaft Hole: | 10-32 |
| Torque: | 70-80N.M |
| Bore Diameter: | 14mm |
| Speed: | 4000r/M |
| Structure: | Rigid |
Samples:

US$ 2/Piece

1 Piece(Min.Order)

|
Request Sample
Customization:

Available

|

Customized Request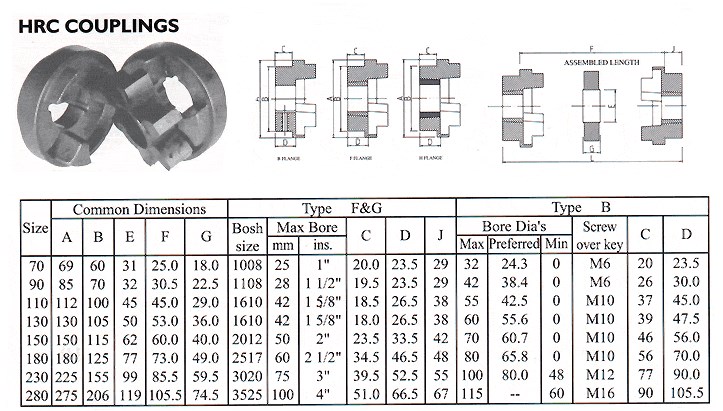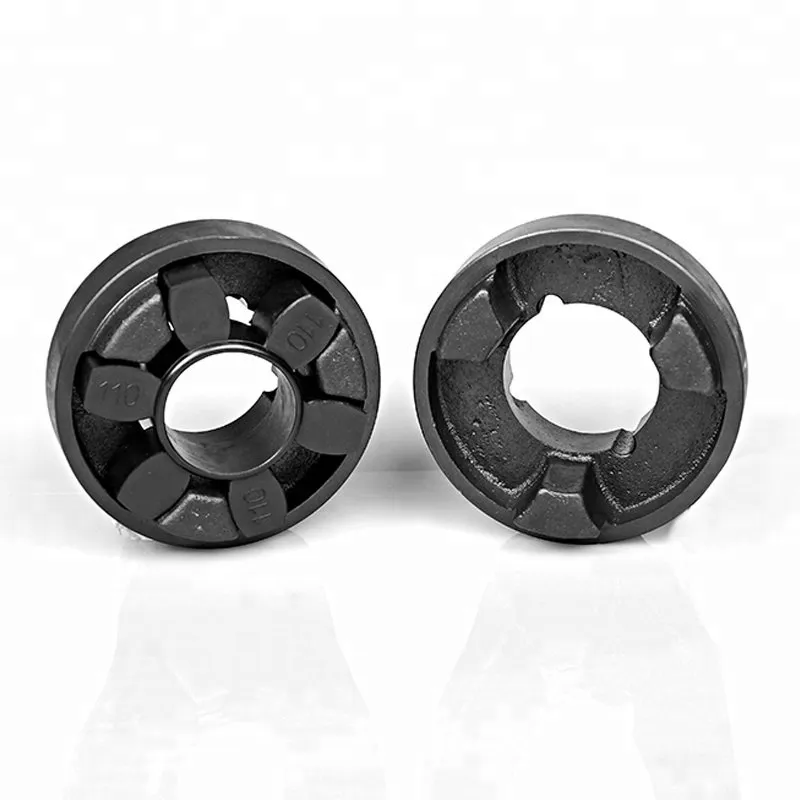 Can HRC Couplings Accommodate High Torque and High-Speed Applications?
HRC (Highly Resilient Coupling) couplings are designed to handle a wide range of torque and speed requirements, making them suitable for various industrial applications, including those involving high torque and high-speed conditions. Their ability to accommodate high torque and high-speed applications depends on several factors:
Coupling Size and Type: HRC couplings come in various sizes and types, each with its torque and speed ratings. Larger couplings with robust designs can handle higher torque and speed than smaller ones.
Material Composition: HRC couplings consist of a metal hub and a flexible elastomeric element. The material composition of the elastomer plays a significant role in determining the coupling's torque and speed capabilities.
Elastomer Properties: The elastomeric element in HRC couplings provides flexibility and damping. It should be selected based on its resilience, durability, and ability to withstand the intended torque and speed requirements.
Application Requirements: The coupling's torque and speed ratings must match or exceed the demands of the application. Factors such as the driven and driving equipment's power, load characteristics, and operational conditions should be considered.
Proper Installation: Correct installation, including accurate alignment and proper torqueing of the coupling, ensures optimal performance and minimizes the risk of premature failure in high torque and speed applications.
It's important to consult the manufacturer's specifications and guidelines to select the appropriate HRC coupling for a specific high torque and high-speed application. Using an undersized or unsuitable coupling can lead to premature wear, reduced efficiency, and potential safety hazards.
In summary, HRC couplings are well-suited for high torque and high-speed applications when properly selected, installed, and maintained. They offer the benefits of damping vibrations, shock absorption, and misalignment compensation while reliably transmitting power in demanding industrial settings.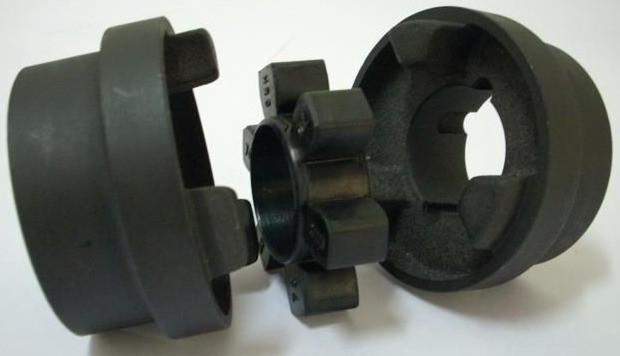 Can HRC Couplings Be Used in Applications with Varying Operating Temperatures?
Yes, HRC couplings can be used in applications with varying operating temperatures. The choice of materials used in the manufacturing of HRC couplings allows them to withstand a wide range of temperatures, making them suitable for diverse industrial environments. Here's how HRC couplings handle varying operating temperatures:
1. Material Selection: HRC couplings are typically constructed using high-quality materials such as cast iron, steel, and a flexible rubber element. These materials are selected for their excellent thermal properties and ability to maintain their structural integrity across a broad temperature range.
2. Temperature Resistance: The rubber element in the HRC coupling is designed to resist temperature extremes. It remains flexible and resilient even in high or low-temperature conditions. This flexibility is essential for the coupling's ability to accommodate misalignment and dampen vibrations effectively.
3. Thermal Expansion: When machinery operates at higher temperatures, components can undergo thermal expansion. HRC couplings can handle the slight misalignment caused by thermal expansion, thanks to their flexible rubber element. This feature prevents additional stress on the connected shafts and bearings, reducing the risk of premature failures.
4. Lubrication-Free: Unlike some other types of couplings that require lubrication for smooth operation, HRC couplings are designed to be lubrication-free. This is advantageous in applications with varying temperatures because lubricants may experience changes in viscosity and performance at extreme temperatures. The absence of lubrication simplifies maintenance and ensures consistent coupling performance regardless of temperature fluctuations.
5. Application Versatility: Due to their temperature resistance and ability to handle misalignment, HRC couplings find applications in a wide range of industries and equipment, including pumps, compressors, conveyors, and various types of machinery that operate in environments with varying temperatures.
In summary, HRC couplings are well-suited for applications with varying operating temperatures. Their robust construction, temperature-resistant materials, and ability to handle misalignment make them a reliable and versatile choice for power transmission in different industrial settings, regardless of temperature fluctuations.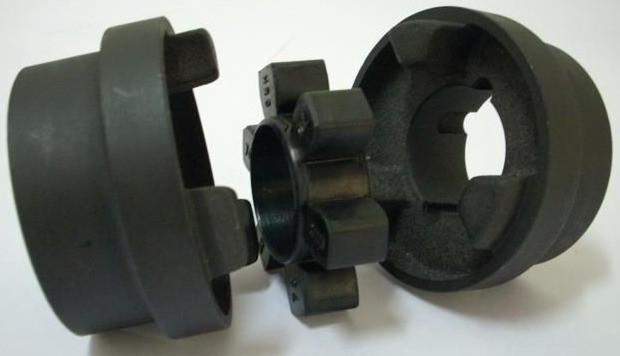 Materials Used in Manufacturing HRC Couplings
HRC couplings are typically made from a combination of different materials to provide the necessary properties for efficient power transmission and durability. The common materials used in manufacturing HRC couplings include:
Cast Iron: Cast iron is a widely used material for HRC couplings due to its excellent strength, durability, and resistance to wear and deformation. It is suitable for various industrial applications and can handle substantial torque and misalignment.
Steel: Steel is another popular choice for HRC coupling construction. It offers high tensile strength, good fatigue resistance, and the ability to handle high-speed applications. Steel HRC couplings are suitable for demanding environments and heavy-duty machinery.
Stainless Steel: Stainless steel HRC couplings are ideal for applications where corrosion resistance is essential. They are commonly used in industries such as food processing, pharmaceuticals, and marine environments.
Aluminum: Aluminum HRC couplings are lightweight and have excellent corrosion resistance. They are suitable for low to medium torque applications where weight reduction is a concern.
Bronze: Bronze is used in specialized HRC coupling designs, particularly for applications requiring low friction and high wear resistance. It is commonly used in marine and heavy machinery applications.
Polyurethane: Polyurethane is used for the flexible elements of HRC couplings. It offers good shock absorption and vibration damping properties, contributing to the coupling's ability to protect connected equipment from shocks and vibrations.
Other Composite Materials: Some HRC couplings may feature composite materials that combine the benefits of different materials, such as rubber compounds with metal reinforcement, to provide specific performance characteristics.
The material selection for HRC couplings depends on the application requirements, including torque, speed, environmental conditions, and industry standards. Manufacturers often provide a range of material options to suit various applications and ensure reliable and efficient power transmission.



editor by CX 2023-08-29