Product Description
HRC Flexible rubber Camlock shaft coupling types of spider coupling HRC B/F/H Couplings Custom Coupling With Taper Bush Bushing Shaft Couplings
 
Product Description
Installation is quick and easy without special tools required, only a hexagonal wrench is needed
Maintenance is virtually eliminated without the lubrication required
The electro-metric element allows HRC to be suitable for use in most conditions
In the unlikely event of the flexible element being destroyed, the drive will be maintained by the inner action of the integrally cast driving dogs
Product Parameters
Type F&H
Bored to size
A
B
E
F
G
L1
L2
L3
J
SIZE
BUSH
Bore
C
D
Bore
C
D
MAX MIN
MAX
MIN
70
1008
25
9
20.0 
23.5
32
10
20
23.5
69
60
31
25
18
65
66.5
68
29
90
1108
28
9
19.5
23.5
42
10
26
30.5
85
70
32
30.5
22.5
69.5
76
82.5
29
110
1610
42
14
18.5
26.5
55
10
37
45.5
112
100
45
45
29
82
101
119
38
130
1610
42
14
18.5
26.5
60
20
39
47.5
130
105
50
53
35
89
118
146
38
150
2012
50
14
23.5
33.5
85
28
46
56
150
115
62
60
40
107
134
160
42
180
2517
60
16
34.5
46.5
80
28
58
70
180
125
77
73
49
142
165
189
48
230
3571
75
25
39.5
52.5
100
48
77
90
225
155
99
85.5
59.5
165
202
240
55
280
3525
100
35
51.0 
66.5
115
60
90
105.5
175
206
119
105.5
74.5
208
247
286
67
Related Products
Company Profile
FAQ
Q: Can you make the coupling with customization?
A: Yes, we can customize per your request.
Q: Do you provide samples?
A: Yes. The sample is available for testing.
Q: What is your MOQ?
A: It is 10pcs for the beginning of our business.
Q: What's your lead time?
A: Standard products need 5-30days, a bit longer for customized products.
Q: Do you provide technical support?
A: Yes. Our company has a design and development team, and we can provide technical support if you
need.
Q: How to ship to us?
A: It is available by air, sea, or by train.
Q: How to pay the money?
A: T/T and L/C are preferred, with different currencies, including USD, EUR, RMB, etc.
Q: How can I know if the product is suitable for me?
A: >1ST confirm drawing and specification >2nd test sample >3rd start mass production.
Q: Can I come to your company to visit?
A: Yes, you are welcome to visit us at any time.
Q: How shall we contact you?
A: You can send an inquiry directly, and we will respond within 24 hours.
Shipping Cost:

Estimated freight per unit.





To be negotiated
| | |
| --- | --- |
| Standard Or Nonstandard: | Standard |
| Shaft Hole: | Custom |
| Torque: | <10N.M |
Samples:

US$ 50/Piece

1 Piece(Min.Order)

|

Order Sample

Yellow
Customization:

Available

|

Customized Request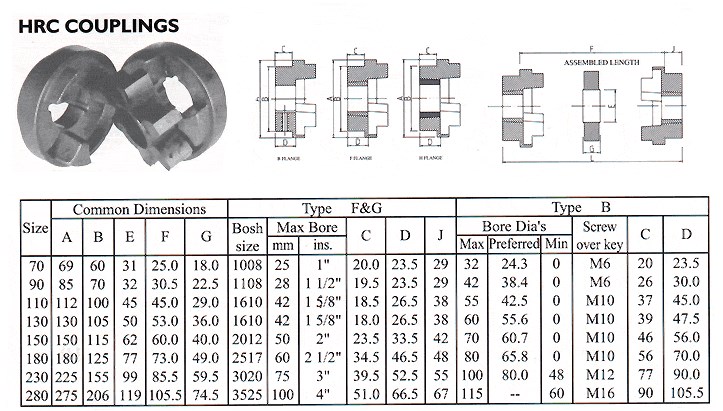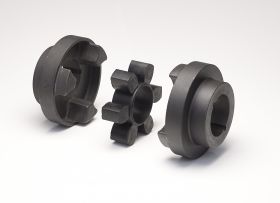 How do HRC Couplings Compare to Other Types of Couplings in Terms of Performance?
HRC (Highly Resilient Coupling) couplings offer specific advantages and disadvantages compared to other types of couplings, making them suitable for certain applications while not ideal for others. Here is a comparison of HRC couplings with some other common coupling types:
HRC Couplings vs. Flexible Couplings: HRC couplings and flexible couplings both provide some degree of misalignment compensation and damping of vibrations. However, flexible couplings typically offer higher torsional flexibility and better misalignment accommodation than HRC couplings. HRC couplings may have limitations in terms of angular and parallel misalignment compared to certain types of flexible couplings.
HRC Couplings vs. Gear Couplings: Gear couplings are more robust and can handle higher torque capacities than HRC couplings. They are suitable for heavy-duty applications that demand higher torque transmission and greater misalignment accommodation. However, gear couplings may be more expensive and less forgiving in case of misalignment.
HRC Couplings vs. Disc Couplings: Disc couplings offer excellent misalignment compensation and torsional stiffness. They can handle high-speed applications and provide precise torque transmission. However, disc couplings are generally more expensive than HRC couplings and may require more frequent maintenance.
HRC Couplings vs. Jaw Couplings: Jaw couplings are simple and cost-effective but offer limited misalignment accommodation compared to HRC couplings. They are suitable for light to moderate loads and lower torque applications.
Ultimately, the choice of coupling type depends on the specific requirements of the application. HRC couplings are well-suited for applications where moderate misalignment compensation is needed, and cost-effectiveness is a consideration. They are commonly used in pumps, compressors, conveyor systems, and other industrial machinery.
When selecting a coupling, factors such as torque capacity, speed, misalignment requirements, environmental conditions, and maintenance considerations should be taken into account. It is essential to consult with coupling manufacturers or engineering experts to ensure the appropriate coupling is chosen for optimal performance and reliability in the given application.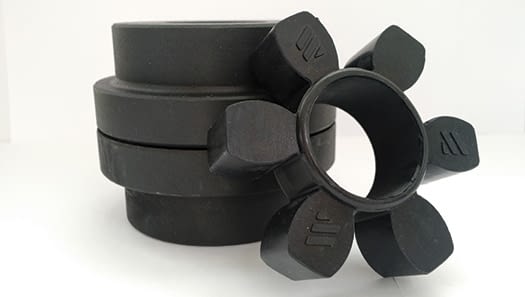 Factors to Consider When Choosing an HRC Coupling for a Specific System
When selecting an HRC coupling for a specific system, several crucial factors should be taken into consideration to ensure optimal performance and reliability:
1. Torque and Power Requirements: Determine the torque and power requirements of the application. This will help in selecting an HRC coupling with the appropriate torque rating and power capacity to handle the load.
2. Shaft Sizes: Check the shaft sizes of the connected equipment. The HRC coupling's bore size should match the shaft sizes to ensure a proper fit and secure connection.
3. Misalignment Tolerance: Evaluate the expected misalignment in the system. HRC couplings are known for their ability to handle angular, parallel, and axial misalignment to a certain degree. Choose a coupling with the appropriate misalignment tolerance for your application.
4. Operating Speed: Consider the operating speed of the machinery. High-speed applications may require specially designed HRC couplings with balanced construction to prevent vibrations and maintain smooth operation.
5. Operating Temperature: Determine the range of operating temperatures in the system. Ensure that the selected HRC coupling can withstand the temperature extremes of the application without compromising its performance.
6. Environmental Conditions: Consider the environmental conditions in which the HRC coupling will operate. Factors such as moisture, dust, and corrosive elements should be taken into account when choosing the appropriate material and coating for the coupling.
7. Space Limitations: Evaluate the available space for the coupling installation. HRC couplings come in various sizes and designs, so choose one that fits within the spatial constraints of the system.
8. Maintenance Requirements: Determine the desired level of maintenance for the coupling. Some HRC couplings are maintenance-free, while others may require periodic inspection and lubrication.
9. Coupling Type: Consider the specific type of HRC coupling that best suits the application. HRC couplings are available in different designs, such as flange, taper bush, and pilot bore, each with its advantages for specific applications.
10. Budgetary Constraints: Finally, consider the budget for the coupling. While cost is an important factor, it should be balanced with the coupling's performance, durability, and suitability for the application.
By carefully evaluating these factors, you can choose the most appropriate HRC coupling for your specific system, ensuring smooth power transmission, longevity, and reliability of your equipment.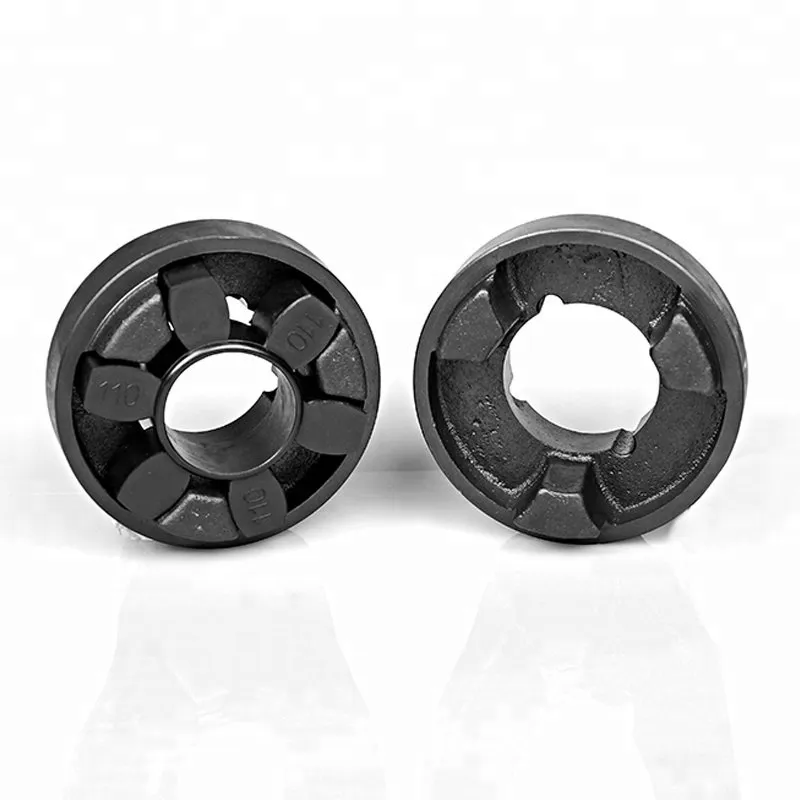 Selection of HRC Coupling for Specific Applications
Choosing the appropriate HRC coupling for a specific application requires careful consideration of several factors. Here are the steps to select the right HRC coupling:
Identify Application Requirements: Understand the specific requirements of your application, including torque and speed requirements, operating environment, shaft misalignment, and space limitations.
Calculate Torque and Speed: Determine the torque and speed values required for your application. This information will help you select an HRC coupling that can handle the expected load and rotational speed.
Consider Misalignment: Evaluate the type and magnitude of misalignment that the coupling needs to accommodate. HRC couplings can handle angular, parallel, and axial misalignment to varying degrees, so choose a design that meets your misalignment needs.
Check Space Constraints: Consider the available space for the coupling. If space is limited, you may need a compact HRC design or consider other coupling types that require less space.
Choose Hub Material: Select the hub material based on the application environment. Standard HRC hubs are usually made of cast iron, but stainless steel or other materials may be necessary for corrosive or specialized applications.
Explore Design Variations: Evaluate the various HRC coupling designs available, such as standard, spacer, flywheel, taper lock, brake drum, etc. Choose a design that best suits your application's needs.
Consider Environmental Factors: If your application operates in harsh conditions, consider factors such as temperature, moisture, chemicals, and potential contamination when choosing the HRC coupling.
Check Installation and Maintenance: Consider the ease of installation and maintenance requirements of the selected HRC coupling. Some designs, such as taper lock or pilot bore, offer easier installation and removal.
Consult Manufacturer Recommendations: Consult with the coupling manufacturer or a knowledgeable supplier to ensure you select the right HRC coupling for your specific application. They can provide valuable insights and recommendations based on their expertise.
By carefully evaluating these factors and selecting the appropriate HRC coupling, you can ensure optimal performance, reliability, and longevity for your mechanical system.



editor by CX 2023-08-22